Take control of
the big picture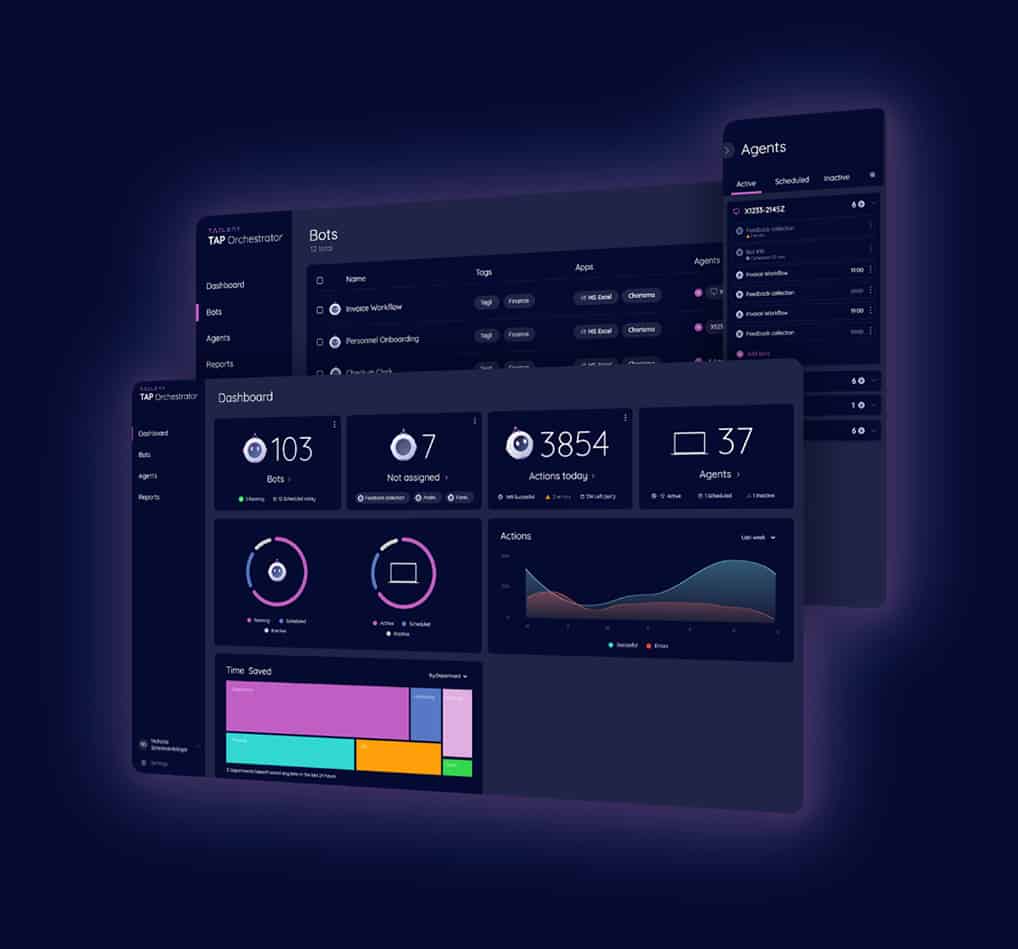 Get an X-Ray vision of the work done by bots inside the organization. TAP™ Orchestrator is efficiently and intuitively deployed within your company and can be used from both a browser and mobile. In a nutshell, it's the nexus of your automation powerhouse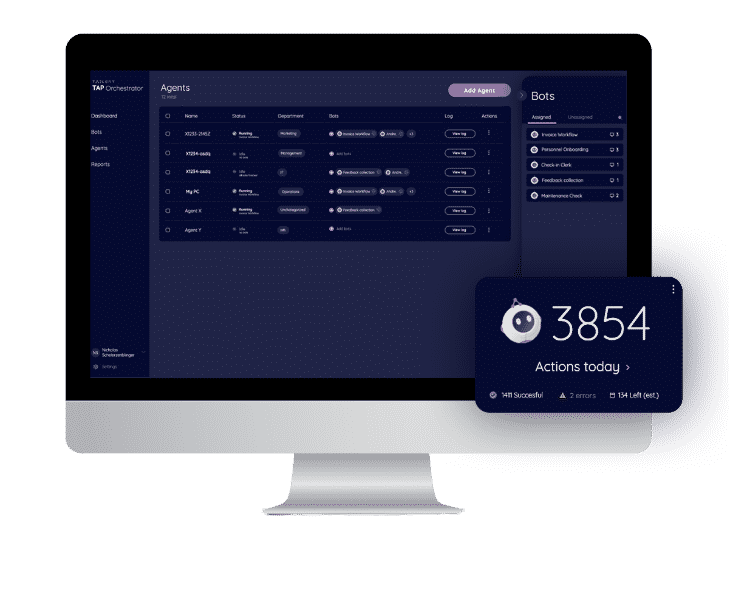 Provision and centrally manage bots  
Making sure these are run consistently and reliably. You also have versioning, which ensures that TAP Agents run exactly the automation version you want. We provide you with the means to build a repository of bots within your organization and store them directly in the cloud, so you have easy access at any time.
TAP Agents automatically make sure that they have the correct bot stored in the local repository (and download the appropriate one from the TAP Orchestrator if not). This ensures that the agents will be running the bots you want them to.
Bots and Agent management
Users can easily assign bots to various agents and can manage bots within the centralized repository within your organization.
Automatic agent enrollment
TAP Agents from your organization enroll automatically with the Orchestrator. This way, they are available for you to use instantly, without any additional administrative hustle.
You can run bots remotely at any time, on any target agent that is available. For added flexibility and management features, you can also freely schedule bots to run agents at given times or regular intervals. Flexibility is the keyword here! We also introduce the novel concept of "shifts" through which you can quickly couple various bots in sequence. Users can also cancel running automation jobs if they so require.
TAP Orchestrator provides you with an X-Ray vision of your current automation environment. You can see real-time monitoring of all your bots and agents, knowing exactly what each agent is doing at one time. You can quickly identify issues and sort them out in record time.
Users can quickly see the results of their automation jobs. They can see the execution time and complete logs of every automation execution, in order to provide full visibility into the current environment. This enables administrators to see the outcome of all automation jobs - finished successfully, pending, exceptions etc.
Powerful automation capabilities are nothing without business intelligence. TAP Orchestrator offers various real-time reporting features through its reporting dashboard. This enables business users to quickly assess the state of your automation context - how many bots you're using, how, what they are doing and how much time they are saving you.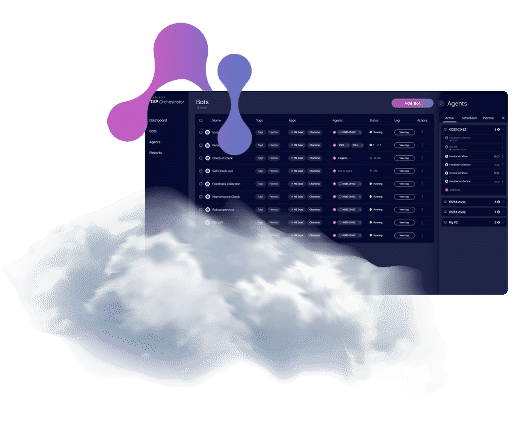 No installation required. Easy to use, easy to access. Multi-tenant enabled. Per department mapping of your organization. Secured by AWS.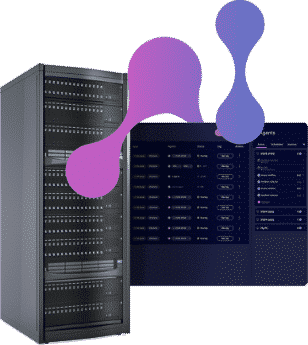 In order to address any requirement, TAP Orchestrator can be deployed, managed and updated by a customer in an on premise environment.
Why choose TAP™ Orchestrator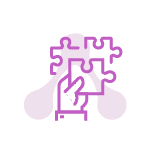 Affordable & approachable
Annual license with big focus on Value for Money, for both large and medium enterprises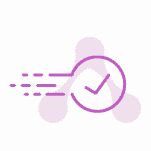 Lightning-speed  development
With reusability at the core of TAP, everything just works and it works fast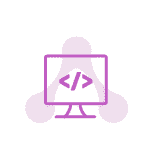 Deployment(seamlessly publish your bots from the TAP Studio with just 1 click, then assign them on the desired agent with just 1 click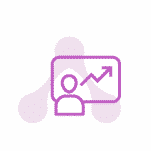 Advanced orchestration features allow for great scalability and a very short timeframe from development to production ready
that are paving the way for a world ready for automation
Technology is in our DNA, so it is natural to always look at the most advanced technological solutions. The first step is to integrate Tailent's intelligent software robots into our activity, to optimize certain repetitive operational processes and allow the team to focus on more relevant activities. Furthermore, we explore the possibility of bringing RPA technology closer to children who are preparing, with our help, to become the next generation of technology creators

Indira Abdulvoap
General Manager
ETA2U has a longstanding tradition in research, development and High Tech. [...] Now, for the first time, through the partnership with Tailent, we can also offer RPA solutions to our customers, as one of the most efficient process automation technologies for companies.

Stelian Câmpianu
Executive Director
The partnership with Tailent represents a new chapter for Aliant in strengthening our digital transformation offering. Together with Tailent, we can serve automation needs of Romanian companies through innovative RPA solutions and technologies, based on proven expertise and efficiency.

Bogdan Ciubotaru
Chief Commercial Officer
We use breakthroughs in artificial intelligence and machine learning to deflect requests and incidents and we help companies transform their service through automation and knowledge. Tailent adds to our mission and allows us to build our full-service integrated solutions offering by including its highly competitive technologies developed in Romania.

Yip Ly
Chief Revenue Officer
The investment in Tailent's RPA technology has been very affordable and allows us to leave time-consuming activities on the hands of software robots, while we, as a team, can focus on our core business. Tailent's intelligent software robots are the link between ERP and the integrated waste management platform we are developing in order to better meet environmental protection requirements, which allows us to increase waste collection and also the recovery of waste through digitalization.

we know you're ready.
let's talk